Comfortable Gray Padded Front Closure T-Shirt Bra
Sale price
$25.99
Regular price
$29.99
100% CUSTOMER SATISFACTION GUARANTEED
FREE SHIPPING ON ORDERS OVER $50
WORLDWIDE SHIPPING
Product description
Fabric and care instructions
Shipping & Return
Reviews
FallSweet Comfortable Gray Padded Front Closure T-Shirt Bra
Experience the unparalleled innovation of the T-shirt padded bra, distinguished by its ingenious front closure. Embrace the convenience it offers, sparing you the unnecessary inconveniences associated with traditional padded bras.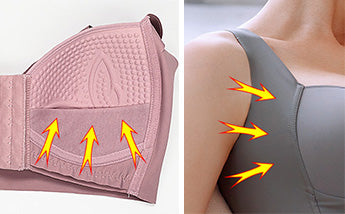 This bra boasts a sophisticated arrangement of five hooks and eyes positioned at the front, merging practicality with style seamlessly. Notably, it showcases added side coverage and straps that flawlessly blend into the design, ensuring both enhanced comfort and aesthetic appeal. The fabric utilized in crafting this padded bra boasts a remarkable smoothness that extends beyond touch—it guarantees breathability and comfort, affirming your confidence and well-being from dawn to dusk.
Moreover, a range of eight distinct band sizes caters to various body types, accommodating wearers from size 34 to size 48. With cup sizes spanning B, C, and D, you have the liberty to select the ideal fit that accentuates your silhouette with finesse.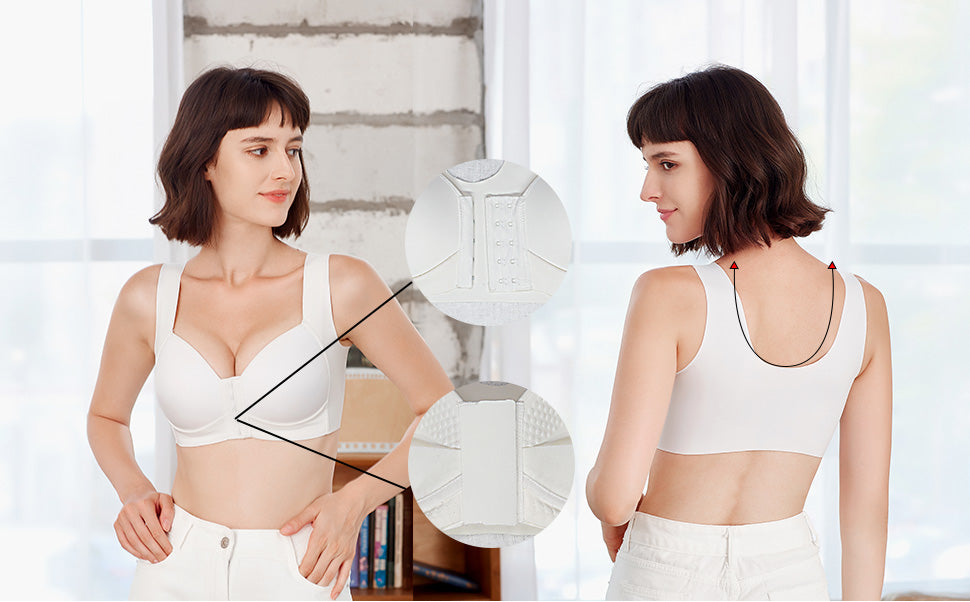 Diverging from traditional padded bras, this wireless wonder elevates the bust to the center, unveiling a more poised and lifted profile. Step into each day with augmented elegance and self-assuredness, basking in the transformative prowess of this exceptional bra.
How to get this Comfortable Gray Padded Front Closure T-Shirt Bra?
Come to the new and young bra band FallSweet. We sell the perfect quality bras all around the word, especially majoring in push up bra.
You will be happy to be here to buy the padded bra. Also, there are other brilliant bras as well in our shop: "Hide Back Fat" Padded Bra Underwire T-shirt Bralette, "Add One Cup" Push Up Bra  Underwire Corset Top Bustier and "Add Two Cups" Padded Bra—Black.
Don't worry about the shopping. If you have any problems, please contact us as soon as possible: contact@fallsweet.com.
64.3% Nylon, 35.7% Spandex
Always wash your bras by hand
Washing machines can cause snags, rips, and tears. We recommend that you wash your bras, by hand, after every second or third wear with a soap designed for delicate fabrics.
Let them air dry
The high-heat and tumbling action of dryers can ruin elastic and cups. Alway lay your bras flat or hang them to dry. They'll thank you for it.
Shipping:
The estimated delivery time is 7-14 days.

Return:
We offer hassle-free returns and exchanges within 30 days.

If you have any problems , please contact us as soon as possible :contact@fallsweet.com.
Well I have a little doubt about the finishes because the straps and the back on just cut to see in time
Very good) I have a breast of almost 6 sizes and little that holds it and it is still straight in the sides of the parted and this bodice very neatly collected the chest)))) Yes, and a beautiful something with my size is difficult to find) and this bodice is straight fire) I highly recommend) I have a chest 103, girth under the chest 81) girth which took approached but I think and the size was less fashionable to take) and so I'm delighted and highly recommend to owners of a large chest)